Yow Song Injection Molding Co., Ltd.--Extruded silicone rubber products including strips, linings, sheets, tubes, hoses, pads, caps, plugs, keypads, and heat-extrusion-molded parts --
- 2014/08/30 -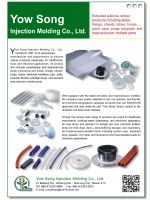 Yow Song Injection Molding Co., Ltd., founded in 1987, is an experienced
manufacturer and subcontractor of silicone rubber products especially for healthcare, food, and industrial applications. Its product line includes symmetrical and asymmetrical strips (cylindrical and solid), linings, sheets, tubes, hoses, electrical insulation caps, pads, keypads, flexible watertight plugs, and assorted heat-extrusion-molded parts.
Well equipped with the latest extruders and heat-extrusion molders, the company uses quality materials to turn out nontoxic, eco-friendly, and extreme-temperature-resistant products that are SGS-RoHS approved and sold under its own "Yow Song" brand, mainly to the domestic and other Asian markets.
Among Yow Song's wide range of products are hoses for healthcare instruments, drinking-water dispensers, and electronic apparatus; air-seal strips and gaskets for airtight jars and cosmetic bottles; strips for dish-dryer doors, dehumidifying storage, and machinery; and heat-extrusion-molded items including suction cups, keyboard keys, gaskets, iron rests, and shockproof and heat-insulated pads for electronic applications.